The Historic Center of Athens
Photos of the Acropolis, the Temple of Zeus, the archaeological site of Kerameikos, the Temple of Hephaestus, the Acropolis Museum and surrounding areas in the historic center of Athens.
The Acropolis Museum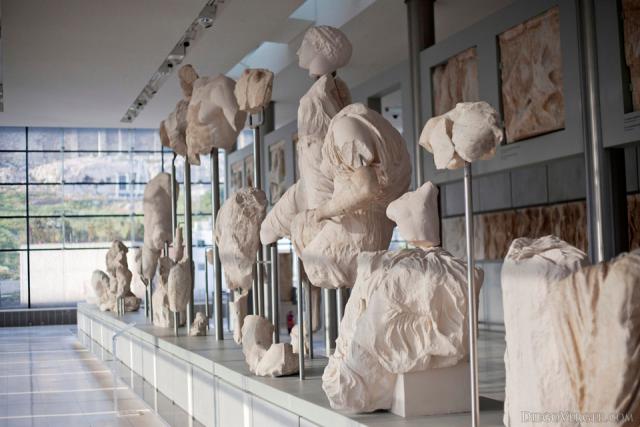 This museum to the south of the Acropolis holds a collection of pieces proceeding from the Acropolis and its surroundings. Aside from its collections, a highlight of this museum is the panoramic windows of the building and its orientation towards the Acropolis, which allow a view of the hill and some of its temples from within the museum while appreciating the archaeological findings thereof, creating a more immersive experience.
Floral acroterion of the Parthenon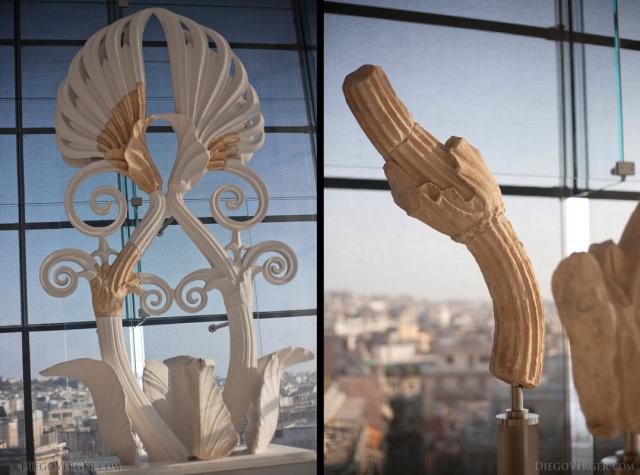 On the left, a reconstituted ornament which would have belonged to the Parthenon's pediment. On the right, one of the original fragments of these floral patterns.
Erechtheion's south façade in the Acropolis of Athens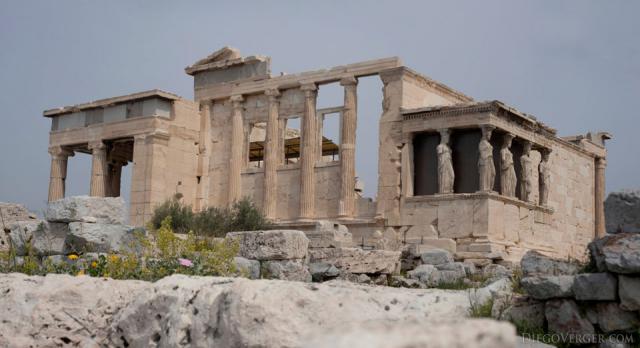 Temple to the north of the Parthenon, with Ionic columns. On the right you can see the Caryatids portico, with replicas of the original columns sculptured with female shapes, which although they are an original architectural element, according to the Roman author Vitruvius, they are traces of a dramatic and sad episode of conflict between different Greek populations. They represent the slaves of Καρυές (Karyes, Karyai or Carya), a population which made an alliance with Persia in its war against Greece, and therefore after the Greek victory its men were slain and the Caryatids or "maidens of Karyai" were taken as slaves. Afterwards, these statues would be placed below the entablature of the portico to symbolically represent the burden these women had to bear as atonement for Carya's treason, and as a remainder to future generations of such penalty.
Media
(53)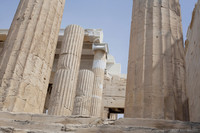 Propylaea of the Athenian Acropolis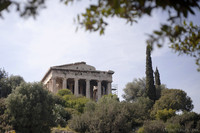 Temple of Hephaestus in the Ancient Agora of Athens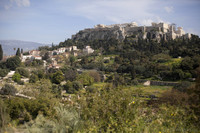 The Acropolis in Athens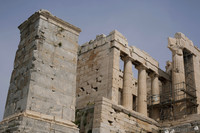 North wing of the Propylaea in the Acropolis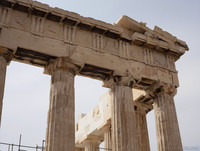 Detail of a corner of the Parthenon's east façade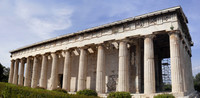 Side view of the Temple of Hephaestus in the Ancient Agora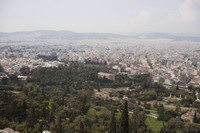 Panoramic view of the Ancient Agora in the city of Athens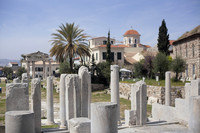 Columns of the Roman Forum or Roman Agora of Athens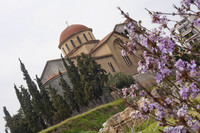 Church of the Holy Trinity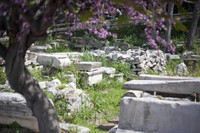 Archaeological remains in the Roman Agora next to the Tower of the Winds
Tower of the Winds at the Roman Agora - The Historic Center of Athens
Tower of the Winds at the Roman Agora
Lions at the Beulé Gate of the Acropolis - The Historic Center of Athens
Lions at the Beulé Gate of the Acropolis
Temple of Olympian Zeus - The Historic Center of Athens
Temple of Olympian Zeus
Detail of the Corinthian columns of the Temple of Olympian Zeus - The Historic Center of Athens
Detail of the Corinthian columns of the Temple of Olympian Zeus
Panoramic view of the Temple of Olympian Zeus in Athens - The Historic Center of Athens
Panoramic view of the Temple of Olympian Zeus in Athens
View from the west side of the Temple of Olympian Zeus or Olympieion - The Historic Center of Athens
View from the west side of the Temple of Olympian Zeus or Olympieion
Sepulcher next to the Temple of Olympian Zeus - The Historic Center of Athens
Sepulcher next to the Temple of Olympian Zeus
Northwest façade of the Temple of Hephaestus - The Historic Center of Athens
Northwest façade of the Temple of Hephaestus
Frieze of the Temple of Hephaestus - The Historic Center of Athens
Frieze of the Temple of Hephaestus
Detail of the columns of the Temple of Hephaestus - The Historic Center of Athens
Detail of the columns of the Temple of Hephaestus
Red poppies at Kerameikos in Athens - The Historic Center of Athens
Red poppies at Kerameikos in Athens
The Acropolis Museum - The Historic Center of Athens
The Acropolis Museum
Floral acroterion of the Parthenon - The Historic Center of Athens
Floral acroterion of the Parthenon
Sculpture of Emperor Hadrian - The Historic Center of Athens
Sculpture of Emperor Hadrian
Southeast façade of the Temple of Hephaestus in Athens - The Historic Center of Athens
Southeast façade of the Temple of Hephaestus in Athens
Low-relief in the Ancient Agora - The Historic Center of Athens
Low-relief in the Ancient Agora
Archaeological site of Kerameikos - The Historic Center of Athens
Archaeological site of Kerameikos
Anafiotika next to the Acropolis in Athens - The Historic Center of Athens
Anafiotika next to the Acropolis in Athens
Ancient Agora and Temple of Hephaestus - The Historic Center of Athens
Ancient Agora and Temple of Hephaestus
View of Athens and the Agora from the Acropolis - The Historic Center of Athens
View of Athens and the Agora from the Acropolis
Ornamental remains among wild vegetation in the Ancient Agora - The Historic Center of Athens
Ornamental remains among wild vegetation in the Ancient Agora
Southeast end of the Pompeion in the Kerameikos necropolis - The Historic Center of Athens
Southeast end of the Pompeion in the Kerameikos necropolis
Temple of Hephaestus in the Ancient Agora - The Historic Center of Athens
Temple of Hephaestus in the Ancient Agora
Architrave above the Ionic columns of the Roman Agora of Athens - The Historic Center of Athens
Architrave above the Ionic columns of the Roman Agora of Athens
A street on a slope of the Acropolis hill - The Historic Center of Athens
A street on a slope of the Acropolis hill
Erechtheion's south façade in the Acropolis of Athens - The Historic Center of Athens
Erechtheion's south façade in the Acropolis of Athens
Odeum of Herodes Atticus - The Historic Center of Athens
Odeum of Herodes Atticus
Internal façade of the Odeum or Odeon of Herodes Atticus - The Historic Center of Athens
Internal façade of the Odeum or Odeon of Herodes Atticus
Restoration works of the Parthenon in 2014 - The Historic Center of Athens
Restoration works of the Parthenon in 2014
Erechtheion interior - The Historic Center of Athens
Erechtheion interior
Path in the Ancient Agora - The Historic Center of Athens
Path in the Ancient Agora
Archaeological remains from the Temple of Rome and Augustus in the Acropolis of Athens - The Historic Center of Athens
Archaeological remains from the Temple of Rome and Augustus in the Acropolis of Athens
Architrave of the Temple of Rome and Augustus - The Historic Center of Athens
Architrave of the Temple of Rome and Augustus
Mount Lycabettus as seen from the Acropolis - The Historic Center of Athens
Mount Lycabettus as seen from the Acropolis
The archaeological site of Kerameikos [Κεραμεικός] - The Historic Center of Athens
The archaeological site of Kerameikos [Κεραμεικός]
Wild poppies in a slope of the Acropolis hill - The Historic Center of Athens
Wild poppies in a slope of the Acropolis hill
Themistocles' Sacred gate in Kerameikos - The Historic Center of Athens
Themistocles' Sacred gate in Kerameikos
Fountain House next to the Dipylon of Kerameikos in Athens - The Historic Center of Athens
Fountain House next to the Dipylon of Kerameikos in Athens
Areopagus as seen from the Acropolis - The Historic Center of Athens
Areopagus as seen from the Acropolis
Church of Agia Triada as seen from the archaeological site of Kerameikos - The Historic Center of Athens
Church of Agia Triada as seen from the archaeological site of Kerameikos
The Temple of Hephaestus in the Ancient Agora as seen from the Acropolis - The Historic Center of Athens
The Temple of Hephaestus in the Ancient Agora as seen from the Acropolis
One of the restaurants in the Plaka quarter in Athens - The Historic Center of Athens
One of the restaurants in the Plaka quarter in Athens
View from Philopappos Hill at dusk - The Historic Center of Athens
View from Philopappos Hill at dusk