The Tower of Pisa and Piazza dei Miracoli
Photos of Piazza dei Miracoli, or Piazza del Duomo, in Pisa, including the leaning tower, the cathedral, and the baptistery.
The Tower of Pisa in Piazza dei Miracoli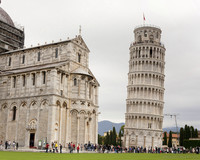 The construction of the bell tower of Pisa began in 1174, and due to its shallow foundation and swampy terrain conditions the incipient building tilted halfway through its completion, an inclination that was compensated later to keep the structure standing and turn it into the worldwide known leaning tower, completed in 1372.
Façade of the Cathedral of Saint Mary of the Assumption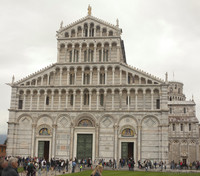 The façade of this cathedral from the year 1092 is inlaid with polychrome marble, just as the Tower of Pisa, and is also decorated with blind arches and geometric shapes on the ground level, as well as loggias with Corinthian columns on the upper levels.
Media
(31)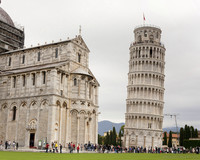 The Tower of Pisa in Piazza dei Miracoli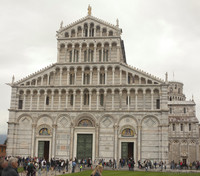 Façade of the Cathedral of Saint Mary of the Assumption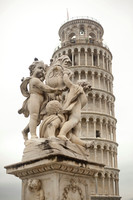 The Putti Fountain and the Tower of Pisa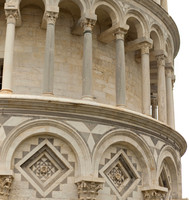 Detail of the arcades of the Tower of Pisa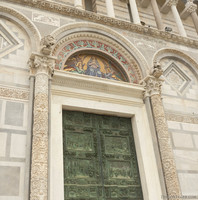 Central portal of the Pisa Cathedral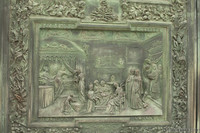 Detail of a bronze relief of the Cathedral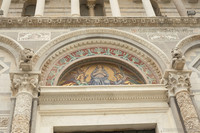 Tympanum on the central portal of the cathedral's façade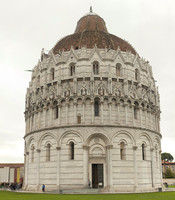 The baptistery of Saint John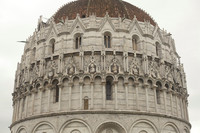 The loggia and Gothic details around the cupola of the baptistery of Pisa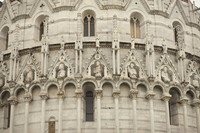 Ornamental details of the Baptistery of Pisa
The Pisa Cathedral - The Tower of Pisa and Piazza dei Miracoli
The Pisa Cathedral
West and south façades of the Pisa Cathedral - The Tower of Pisa and Piazza dei Miracoli
West and south façades of the Pisa Cathedral
Lion's Gate - The Tower of Pisa and Piazza dei Miracoli
Lion's Gate
Camposanto building in the Square of Miracles - The Tower of Pisa and Piazza dei Miracoli
Camposanto building in the Square of Miracles
Gothic tabernacle over the entrance of the Camposanto of Pisa - The Tower of Pisa and Piazza dei Miracoli
Gothic tabernacle over the entrance of the Camposanto of Pisa
Neo-Attic vase and the Tower of Pisa - The Tower of Pisa and Piazza dei Miracoli
Neo-Attic vase and the Tower of Pisa
Detail of the Corinthian columns of the Tower of Pisa - The Tower of Pisa and Piazza dei Miracoli
Detail of the Corinthian columns of the Tower of Pisa
The Tower of Pisa and the south transept of the cathedral - The Tower of Pisa and Piazza dei Miracoli
The Tower of Pisa and the south transept of the cathedral
The tympanum of the Tower of Pisa - The Tower of Pisa and Piazza dei Miracoli
The tympanum of the Tower of Pisa
The six loggias of the Tower of Pisa - The Tower of Pisa and Piazza dei Miracoli
The six loggias of the Tower of Pisa
The Tower of Pisa as seen from the northwest - The Tower of Pisa and Piazza dei Miracoli
The Tower of Pisa as seen from the northwest
Tower of Saint Mary in the medieval wall of Pisa - The Tower of Pisa and Piazza dei Miracoli
Tower of Saint Mary in the medieval wall of Pisa
Pisa Cathedral chevet on a rainy day - The Tower of Pisa and Piazza dei Miracoli
Pisa Cathedral chevet on a rainy day
Detail of the apse of the cathedral and the Tower of Pisa - The Tower of Pisa and Piazza dei Miracoli
Detail of the apse of the cathedral and the Tower of Pisa
Tympanum on the main entrance of the Pisa Baptistery - The Tower of Pisa and Piazza dei Miracoli
Tympanum on the main entrance of the Pisa Baptistery
Detail of the tympanum, archivolt and capitals of the south door of the Pisa Baptistery - The Tower of Pisa and Piazza dei Miracoli
Detail of the tympanum, archivolt and capitals of the south door of the Pisa Baptistery
Detail of the reliefs on the archivolts of the Baptistery's south door - The Tower of Pisa and Piazza dei Miracoli
Detail of the reliefs on the archivolts of the Baptistery's south door
Detail of the tympanum and the north section of the main façade of the Pisa Cathedral - The Tower of Pisa and Piazza dei Miracoli
Detail of the tympanum and the north section of the main façade of the Pisa Cathedral
Detail of an engaged column of the central portal of the Pisa Cathedral - The Tower of Pisa and Piazza dei Miracoli
Detail of an engaged column of the central portal of the Pisa Cathedral
South transept of the Pisa Cathedral - The Tower of Pisa and Piazza dei Miracoli
South transept of the Pisa Cathedral
The Tower of Pisa peeking from behind the cathedral - The Tower of Pisa and Piazza dei Miracoli
The Tower of Pisa peeking from behind the cathedral