Pisa in Infrared
Infrared photos of the city, its streets, monuments, and Piazza dei Miracoli.
Loggias of the Tower of Pisa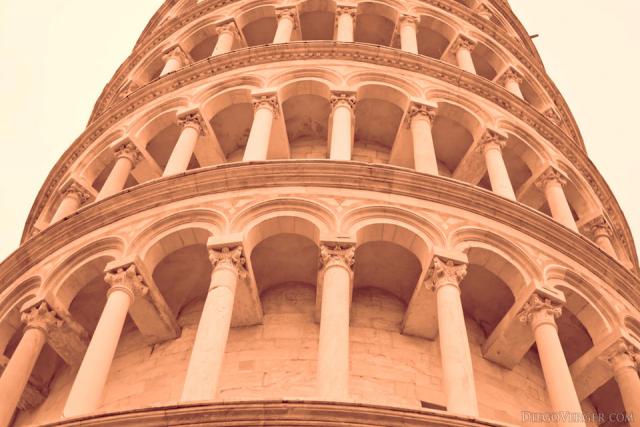 Detail of the arches and columns on the lower loggias of the Tower of Pisa.
The Tower of Pisa and the south end of the Pisa Cathedral transept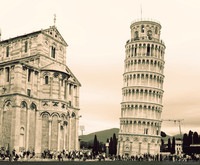 The height of the Tower of Pisa from its foundation is 58.3 meters, or 100 Florentine arms ("braccio fiorentino"), or also Pisan arms ("braccio pisano"), an ancient measurement unit frequently used in the Republic of Pisa, which is equivalent to 58.3 centimeters (23 inches). Due to its tilt, its height above the ground varies approximately 80 centimeters (31 inches) between the highest and lowest side.
Media
(51)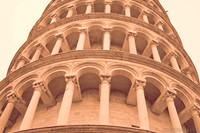 Loggias of the Tower of Pisa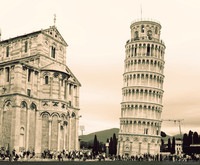 The Tower of Pisa and the south end of the Pisa Cathedral transept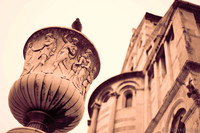 Neo-Attic vase with low-reliefs next to the Pisa Cathedral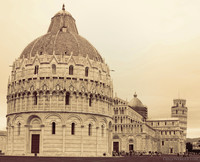 The Baptistery, Cathedral and Tower of Pisa in infrared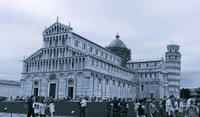 The Pisa Cathedral and the Tower of Pisa in infrared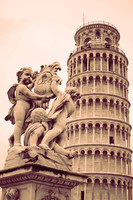 The Putti Fountain in front of the Tower of Pisa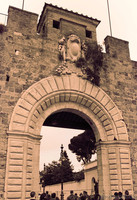 Porta Nuova in infrared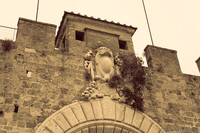 Detail of Porta Nuova in the Pisa wall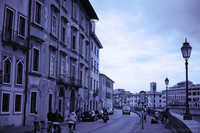 Lungarno Gambacorti in Pisa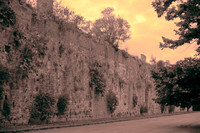 The medieval wall of Pisa in infrared
A street in the Santa Maria quarter of Pisa - Pisa in Infrared
A street in the Santa Maria quarter of Pisa
South side of the Tower of Pisa - Pisa in Infrared
South side of the Tower of Pisa
Campano Tower in the center of Pisa - Pisa in Infrared
Campano Tower in the center of Pisa
The Arno across Pisa - Pisa in Infrared
The Arno across Pisa
A street of Pisa in infrared - Pisa in Infrared
A street of Pisa in infrared
The Archiepiscopal Palace - Pisa in Infrared
The Archiepiscopal Palace
Lungarno Gambacorti - Pisa in Infrared
Lungarno Gambacorti
Façade of the church of Santa Maria della Spina in infrared - Pisa in Infrared
Façade of the church of Santa Maria della Spina in infrared
Back façade of Santa Maria della Spina in infrared - Pisa in Infrared
Back façade of Santa Maria della Spina in infrared
Detail of the back side of the church of Santa Maria della Spina - Pisa in Infrared
Detail of the back side of the church of Santa Maria della Spina
Ceiling of the church of Santa Maria della Spina - Pisa in Infrared
Ceiling of the church of Santa Maria della Spina
A building in Vittorio Emanuele II Square in infrared - Pisa in Infrared
A building in Vittorio Emanuele II Square in infrared
Ponte di Mezzo - Pisa in Infrared
Ponte di Mezzo
Palazzo Pretorio and the Clock Tower - Pisa in Infrared
Palazzo Pretorio and the Clock Tower
Church of Santo Stefano dei Cavalieri - Pisa in Infrared
Church of Santo Stefano dei Cavalieri
A gate of the Stampace bastion - Pisa in Infrared
A gate of the Stampace bastion
Detail of the façade of the Catholic church of San Michele in Borgo - Pisa in Infrared
Detail of the façade of the Catholic church of San Michele in Borgo
Palazzo Poschi in infrared - Pisa in Infrared
Palazzo Poschi in infrared
Palazzo Pretorio and the buildings along the south bank of the Arno - Pisa in Infrared
Palazzo Pretorio and the buildings along the south bank of the Arno
Vittorio Emanuele II square in Pisa - Pisa in Infrared
Vittorio Emanuele II square in Pisa
Statue of King Vittorio Emanuele II - Pisa in Infrared
Statue of King Vittorio Emanuele II
Church of San Sisto of Pisa - Pisa in Infrared
Church of San Sisto of Pisa
Detail of the church of San Sisto of Pisa - Pisa in Infrared
Detail of the church of San Sisto of Pisa
Tower of the church of San Sisto - Pisa in Infrared
Tower of the church of San Sisto
Façade of the Clock Palace at Knights' Square - Pisa in Infrared
Façade of the Clock Palace at Knights' Square
Clock Palace in Knights' Square of Pisa - Pisa in Infrared
Clock Palace in Knights' Square of Pisa
The church of Santa Cristina on the bank of the Arno - Pisa in Infrared
The church of Santa Cristina on the bank of the Arno
The baptistery next to the Pisa Cathedral - Pisa in Infrared
The baptistery next to the Pisa Cathedral
Archiepiscopal Palace in infrared - Pisa in Infrared
Archiepiscopal Palace in infrared
Bike in a street of the Santa Maria quarter - Infrared version - Pisa in Infrared
Bike in a street of the Santa Maria quarter - Infrared version
Detail of the back façade of the church of Santa Maria della Spina - Pisa in Infrared
Detail of the back façade of the church of Santa Maria della Spina
Buildings in the center of Pisa - Pisa in Infrared
Buildings in the center of Pisa
Detail of the façade of the church of San Michele in Borgo - Pisa in Infrared
Detail of the façade of the church of San Michele in Borgo
Clock Palace in Piazza dei Cavalieri - Pisa in Infrared
Clock Palace in Piazza dei Cavalieri
The Tower of Pisa through the medieval wall - Pisa in Infrared
The Tower of Pisa through the medieval wall
The medieval wall of the ancient Republic of Pisa - Infrared version - Pisa in Infrared
The medieval wall of the ancient Republic of Pisa - Infrared version
Scuola Normale Superiore in infrared - Pisa in Infrared
Scuola Normale Superiore in infrared
Detail of the façade of Santo Stefano dei Cavalieri - Pisa in Infrared
Detail of the façade of Santo Stefano dei Cavalieri
The Tower of Pisa in infrared - Pisa in Infrared
The Tower of Pisa in infrared
Detail of the blind arcade of the Tower of Pisa - Pisa in Infrared
Detail of the blind arcade of the Tower of Pisa
The Baptistery of Pisa in infrared - Pisa in Infrared
The Baptistery of Pisa in infrared