Girona City History Museum
Photos of the City History Museum, including vestiges from Gerunda during the Roman Empire up until contemporary Girona.
Sarcophagus relief in the City History Museum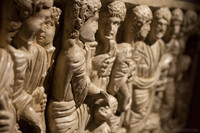 The "Museu d'Història de Girona" is located in carrer de la Força, 27, near the Jewish History Museum. Besides the several pieces shown along the tour throughout several centuries of the city's history, the museum facilities are of archaeological interest since they are located on the site of the ancient monastery of Capuchin friars of Sant Antoni (Saint Anthony) from the 18th century, and has accessible areas such as the winery cellar of 1753, the cistern from before 1762, or the cemetery of the Capuchin friars, also from 1753.
Mosaic of the Roman villa of Can Pau Birol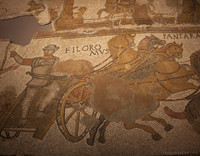 Archaeological finding discovered in 1876. This polychrome mosaic was part of the Roman circus in the villa of Can Pau Birol, established in the outskirts of the Roman Gerunda in the 3rd century. In the section of the mosaic shown in the picture, you can see the name of the victor of a race immortalized as Filoromus, as well as his horse, Pantaracus.
Detail of the Roman mosaic from Can Pau Birol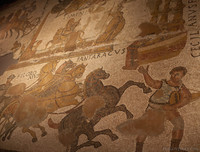 These mosaics represent various scenes of the Roman circuses. On the lower left of the photo, you can see a character that represents a "sparsor", the people responsible for cooling the wheel shafts in the chariots during the equestrian races of Roman circuses.
Media
(30)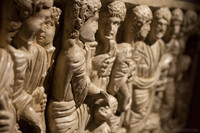 Sarcophagus relief in the City History Museum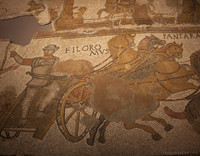 Mosaic of the Roman villa of Can Pau Birol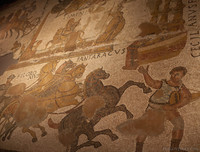 Detail of the Roman mosaic from Can Pau Birol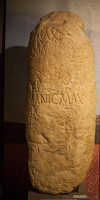 Roman milestone from the year 238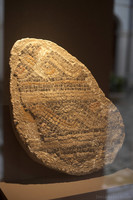 Pavement mosaic from the Roman villa of Can Pau Birol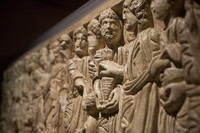 Paleochristian sarcophagus relief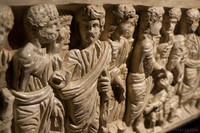 Detail of the high relief of a sarcophagus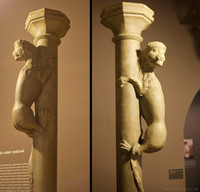 The lioness of Girona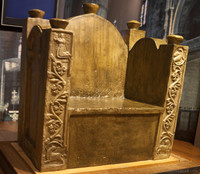 Charlemagne's throne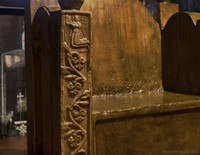 Detail of Charlemagne's throne
Tombstone of 1583 - Girona City History Museum
Tombstone of 1583
Wax seal of royal parchment from the 14th century - Girona City History Museum
Wax seal of royal parchment from the 14th century
Polychrome wooden sculpture from the 13th-14th century - Girona City History Museum
Polychrome wooden sculpture from the 13th-14th century
Marededéu amb el nen - Girona City History Museum
Marededéu amb el nen
Battle drums from the Spanish War of Independence - Girona City History Museum
Battle drums from the Spanish War of Independence
Rifles of the Spanish War of Independence - Girona City History Museum
Rifles of the Spanish War of Independence
Detail of rifles of the Spanish War of Independence - Girona City History Museum
Detail of rifles of the Spanish War of Independence
Rifles and tabor of the Spanish War of Independence - Girona City History Museum
Rifles and tabor of the Spanish War of Independence
Siege scene at the wall of Girona - Girona City History Museum
Siege scene at the wall of Girona
Partial view of the Siege Scene in the walls of Girona - Girona City History Museum
Partial view of the Siege Scene in the walls of Girona
Detail of Narcla motorcycle of 1960 - Girona City History Museum
Detail of Narcla motorcycle of 1960
Narcla motorcycle of 1960 - Girona City History Museum
Narcla motorcycle of 1960
First radio transmitter of Girona Radio station - Girona City History Museum
First radio transmitter of Girona Radio station
Typesetting machine, front view - Girona City History Museum
Typesetting machine, front view
Typesetting machine, side view - Girona City History Museum
Typesetting machine, side view
Typesetting machine at the Girona City History Museum - Girona City History Museum
Typesetting machine at the Girona City History Museum
Cobla instruments from the years 1950 to 1980 - Girona City History Museum
Cobla instruments from the years 1950 to 1980
Old cornet and original case in the music section of the museum - Girona City History Museum
Old cornet and original case in the music section of the museum
Tabors in the City History Museum - Girona City History Museum
Tabors in the City History Museum
Details of the tenoras - Girona City History Museum
Details of the tenoras