The Historic Center of Girona
Photos of some points of interest in the Catalan city of Girona.
Plaça dels Jurats and Archaeological Walk in Girona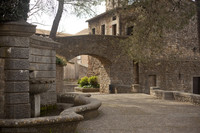 A section of Jurats Square and the Archaeological Walk, or Queen Joana's Walk, and the Casal de Sarraïnes building in the historic center of Girona. The Archaeological Walk borders the north wall of Girona, from the Portal de Sobreportes near the cathedral, to the Gironella tower.
Girona City Wall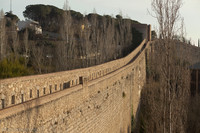 Began by the Romans in the 1st century AD, the wall of Girona has been expanded during the Carolingian Empire, and reconstructed in the 14th century, and it includes several towers along its 2 km (1.24 miles) ramparts walk, which serve as excellent lookouts across the city and beyond.
Media
(46)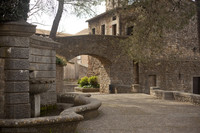 Plaça dels Jurats and Archaeological Walk in Girona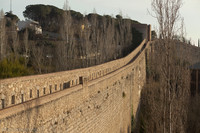 Girona City Wall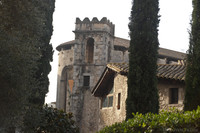 The church of Sant Lluc as seen from Jurats Square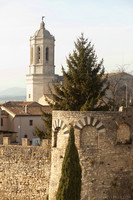 Cathedral and round tower of the Girona city wall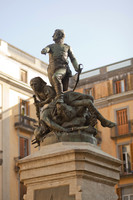 The Defenders of Girona statue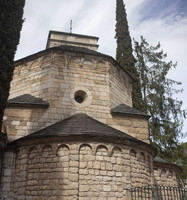 Sant Nicolau chapel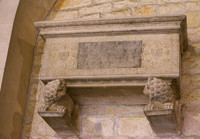 Sepulcher in the cloister of the Girona Cathedral on lion-shaped pedestals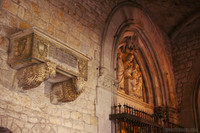 Sepulcher on lamb pedestals in the cloister of the Girona Cathedral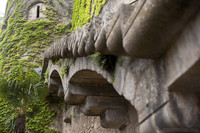 Staircase of the Carolingian wall of Girona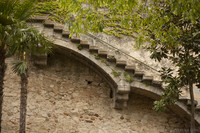 Carolingian wall staircase
North area of Girona, Sant Pere de Galligants zone - The Historic Center of Girona
North area of Girona, Sant Pere de Galligants zone
Belfry of the Sant Pere de Galligants monastery - The Historic Center of Girona
Belfry of the Sant Pere de Galligants monastery
A street of the Call of Girona - The Historic Center of Girona
A street of the Call of Girona
Bell tower of the Church of Sant Lluc - The Historic Center of Girona
Bell tower of the Church of Sant Lluc
Doors of the Sant Lluc church - The Historic Center of Girona
Doors of the Sant Lluc church
Bell tower of Sant Feliu as seen from the Francesa/French Gardens of Girona - The Historic Center of Girona
Bell tower of Sant Feliu as seen from the Francesa/French Gardens of Girona
Elevated path in the Archaeological Walk - The Historic Center of Girona
Elevated path in the Archaeological Walk
Arch bridge in Jurats square - The Historic Center of Girona
Arch bridge in Jurats square
Façade of the Church of Sant Lluc - The Historic Center of Girona
Façade of the Church of Sant Lluc
Part of the Gironella tower ruins - The Historic Center of Girona
Part of the Gironella tower ruins
Façade of the Girona Cathedral - The Historic Center of Girona
Façade of the Girona Cathedral
Sepulcher in an arch of the Girona Cathedral cloister - The Historic Center of Girona
Sepulcher in an arch of the Girona Cathedral cloister
Fountain of 1858 - The Historic Center of Girona
Fountain of 1858
Detail of the sarcophagus on the façade of Sant Feliu basilica - The Historic Center of Girona
Detail of the sarcophagus on the façade of Sant Feliu basilica
Sarcophagus on the façade of Sant Feliu basilica - The Historic Center of Girona
Sarcophagus on the façade of Sant Feliu basilica
Cupola of the Arab Baths (Banys Àrabs) of Girona - The Historic Center of Girona
Cupola of the Arab Baths (Banys Àrabs) of Girona
Bell tower of the Girona Cathedral and the Catalonia Estelada - The Historic Center of Girona
Bell tower of the Girona Cathedral and the Catalonia Estelada
Jurats square in Girona - The Historic Center of Girona
Jurats square in Girona
French Gardens in Girona - The Historic Center of Girona
French Gardens in Girona
Bell tower of the Sant Feliu basilica between trees - The Historic Center of Girona
Bell tower of the Sant Feliu basilica between trees
Streets on the historic center of Girona - The Historic Center of Girona
Streets on the historic center of Girona
Girona wall and Julia tower from the Carolingian period - The Historic Center of Girona
Girona wall and Julia tower from the Carolingian period
Panoramic lookout window in the Francesa gardens of Girona - The Historic Center of Girona
Panoramic lookout window in the Francesa gardens of Girona
Bell tower of the Church of Sant Feliu - The Historic Center of Girona
Bell tower of the Church of Sant Feliu
Entrance to the Francesa gardens - The Historic Center of Girona
Entrance to the Francesa gardens
Cornelia tower from 1362 as seen from the Archaeological Walk - The Historic Center of Girona
Cornelia tower from 1362 as seen from the Archaeological Walk
Cornelia tower - The Historic Center of Girona
Cornelia tower
Detail of round tower on the Girona wall - The Historic Center of Girona
Detail of round tower on the Girona wall
The city of Girona to the north of the Galligants river - The Historic Center of Girona
The city of Girona to the north of the Galligants river
Gothic bell tower of the Sant Feliu basilica - The Historic Center of Girona
Gothic bell tower of the Sant Feliu basilica
Peixateries Velles bridge or Eiffel bridge of Girona - The Historic Center of Girona
Peixateries Velles bridge or Eiffel bridge of Girona
The Eiffel bridge over the Onyar River - The Historic Center of Girona
The Eiffel bridge over the Onyar River
Detail of the Eiffel bridge of Girona - The Historic Center of Girona
Detail of the Eiffel bridge of Girona
Commemorative plaque of the Eiffel bridge - The Historic Center of Girona
Commemorative plaque of the Eiffel bridge
Tympanum and archivolt of the Sant Feliu basilica - The Historic Center of Girona
Tympanum and archivolt of the Sant Feliu basilica
Panoramic view of the buildings along the Onyar river in Girona - The Historic Center of Girona
Panoramic view of the buildings along the Onyar river in Girona